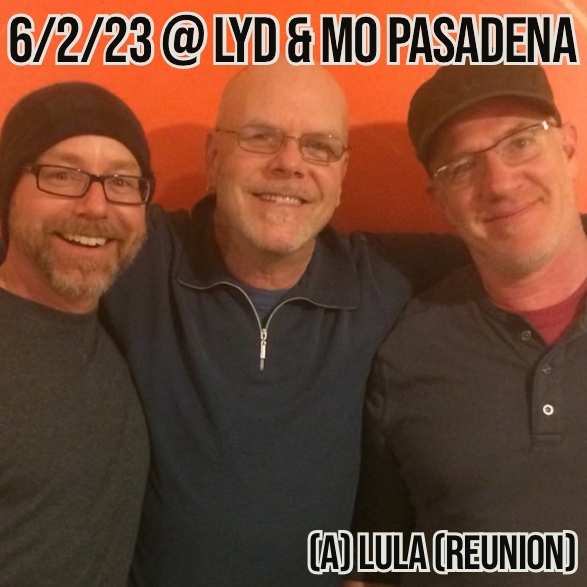 The next act to join us on the 2nd is Lula.
Jami Lula and I go back to the days when I was working retail on Melrose! I think it was my childhood friend, Ivan Knight (a drummer, with whom I played my first professional gig when I was 11!) who told me about this gifted singer from Detroit that he wanted to bring into our circle of musicians. I was puzzled and floored by him right away. He'd do this impromptu sort of Tom Waits gravelly narrative improvisation, then he'd sound like Bobby McFerrin, then something like Kurt Elling (before I knew Kurt Elling's sound, of course…).
For a short time I was a part of the band, Anything Orange, with Jami, Ivan, and Lula's bassist, Jeffrey Dean. But I had my own thing to do…. 🙂
Anything Orange, became Orange, then became Lula, I think, when Jami's old Detroit pal, Gordie Germaine, joined on guitar.
In the interim, Jami would often join me on gigs, with Charlie Colin (later of Train) on upright, and the late "Professor" Dwight Baldwin on percussion. My favorite memory is of us not being able to get into our gig at the 8121 Club on Sunset. A lot of our audience was in same predicament, waiting in line, so we did a mini set right there on the street in front of the Coconut Teaszer! Sometimes you'd find us engaged in similar activities at Damiano's on Fairfax after playing a gig at Café Largo. We also used to host a songwriters gathering at Highland Grounds around the fire pit on Sunday afternoons. And I can't forget the fun times with Jami and David Zasloff, showing up in the oddest places, co-creating beauty!
Jami grew into teaching at Musicians Institute Hollywood (MI), teaching voice and songwriting. I always enjoyed being a guest in his classes because I could feel the curiosity and passion that he'd stoked in his students, which fueled mine, while I tried to explain my process to these engaged minds.
Beyond teaching at MI, Jami became involved with Agape International Spiritual Center and other thinkers in the spiritual and human potential movement, where the full potential of his gifts really seemed to flourish. The ease with which his neo-bohemian improvisations flowed when I first met him, now made sense! The man can tap into spirit! I really admire and feel the uplifting power of the work he's done over the past couple decades performing and speaking nationwide, and in his 10+ releases on Spirit in the House Records.
Find more info about Jami on jamilula.com.
And until June 2, on the subject of Jami Lula, I'll leave you with words from Agape's Rev. Michael Beckwith:
"Jami Lula's music is more than a shiver-inducing experience in sound, it is inspiration itself as an offering just to you. What I love about Jami's improvisational textures is the intimacy he exudes through his personal intensity, which comes from a direct relationship with life, his love of it, and of humanity."

– Rev. Michael Bernard Beckwith
Lula is Jami Lula, vocals; Jeffrey Dean, bass; and Gordie Germaine, guitar. They play with Phil Parlapiano, and me (Jason Luckett) on Friday, June 2, 2023 @ Lyd & Mo's Photography Studio in Pasadena.