Two songs on this album are almost always guaranteed to make me cry. Of course, the only hit from the record, "Someone Saved My Life Tonight," is one. The other is "Writing" and that one is tears of joy and hope. It gets me every time.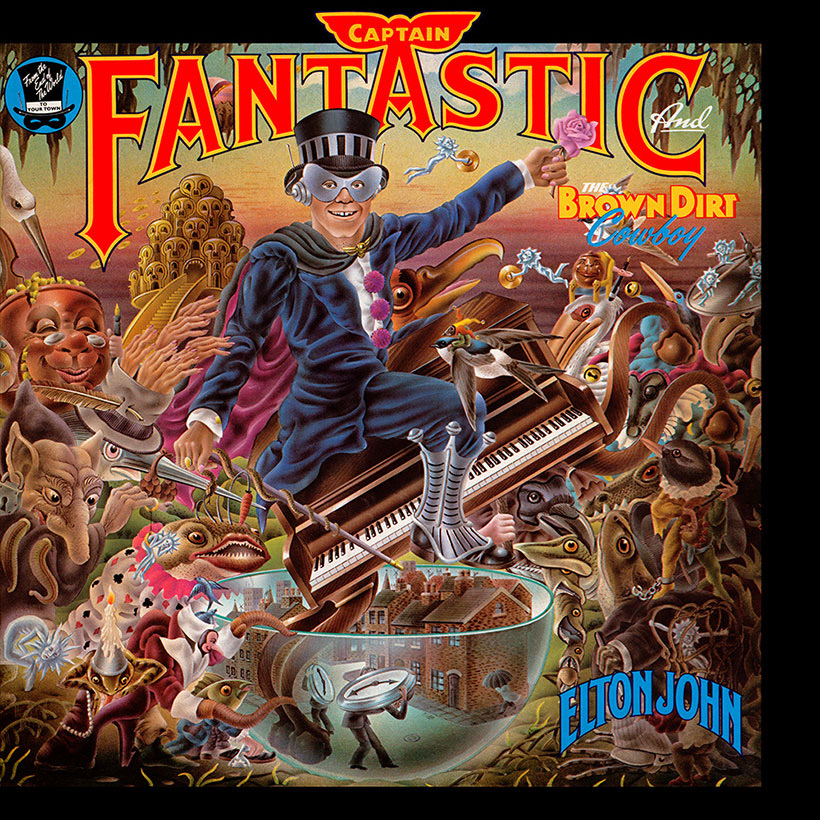 Like the movie "Rocketman" opened my mind to the song, "I'm Still Standing," "Captain Fantastic" opened me to Elton John. I know, I wasn't even into double digits in age when this came out, but I already had serious thoughts about music and Elton John was a pop phenomenon, too flashy for my tastes. I was all about The Beatles, The Who, and more introspective singer-songwriters at that moment. My favorite song trajectory was Lynn Anderson's "I Never Promised You a Rose Garden," The Jackson 5's "ABC," The Carpenters' "On Top of the World," Al Wilson's "Show and Tell," and my first two jukebox picks, Paul Simon's "Kodachrome," and "Pinball Wizard" from The Who. A good mix of fluff and a little more artful stuff.
Then the "Hey Jude" album and "Revolver" given to me by my babysitter sometime in 1974 set me down a Beatles rabbit hole that I pretty much still live in. EJ's popularity was encroaching on The Beatles cultural domination and I was having none of it.
"Captain Fantastic" changed all of that. First, it was that big fat chord (with the 5th in the bass) that opens "Someone Saved My Life" that got me when it played on the radio. Then it was crazy album cover that was illustrated by Alan Aldridge, the same guy who did "The Beatles Illustrated Lyrics" book. I think I got my dad to buy the record for me, but I remember my friend, Dave Anderson, and I listening to it over at his house and marveling at the artwork. There was some nudity and that probably piqued our interest, too! How bold! (haha)
But opening the record was an experience. It not only contained a comic book sized illustrated lyric book, but another book that told Elton and Bernie's story. And it all lined up with the autobiographical nature of the songs. I probably also responded to the really sweet story of two friends from different backgrounds sharing their lives. Even more impressive was that only one of them wrote the words, but it captured two perspectives so well.
The whole album is epic, but the title song is especially cinematic, going musically and lyrically from suburban and countryside English homes to hope of adolescence, ugliness in the city to a creative flowering, then the naked ambition to go "From the end of the world to your town!"
But "Writing" is my absolute favorite. I don't know that I really noticed it much in my single digits. But as I got older, this song expressed the joys of free creativity, before the pressure of "professional" performance better than any song I know. There's seriousness and doubt, of course: "Will the things we wrote today sound as good tomorrow." Every songwriter knows that feeling whether concerned with legacy or just wondering if you'll like what you came up after giving it space.
Though this is the part that gets me about the craft and the passion:
"We could stretch our legs if we'd half a mind
But don't disturb us if you hear us trying
To instigate the structure of another line or two
'Cause writing's lighting up
And I like life enough
To see it through
'Cause writing's lighting up
And I like life enough
To see it through"
———
I like life enough to see it through! That's it!
Then the suicidal ideation in "Someone Save My Life Tonight" becomes even more poignant. Especially seeing those guys together still after all these years.
I couldn't love this album more.
———
I did see the Jackson 5 when I was 5, but this album led me to beg to go to my first "adult" concert. Before we got to Dodger Stadium, my dad said, "Wake me up when he plays 'Bennie and the Jets.'" (Which is why I always loved that Branford Marsalis, in the Sting film "Bring on the Night," names that song as the rock song that black people knew.) The fact is Dad's best childhood friend from Mississippi was actually the stage manager at the Troubadour in the early 70s when Elton made his US debut, and Pops loved the eponymous "Elton John" record. If I were doing 100 records that'd definitely have to be dissected…