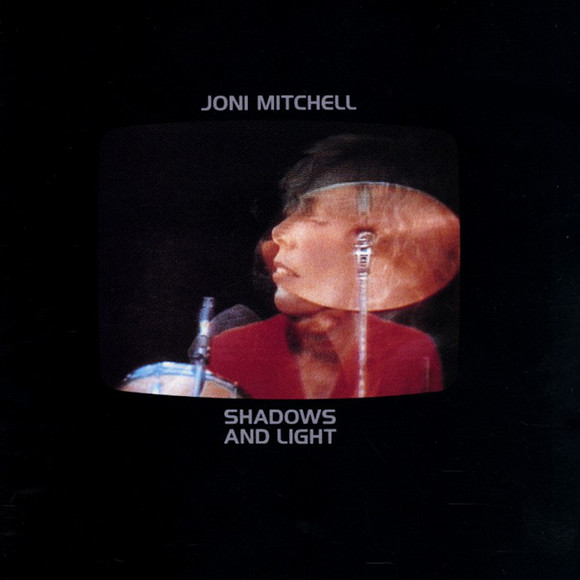 In the days before you could carry your music collection everywhere, two records that went with me on every road trip, were Bob Dylan's "Blood on the Tracks" and Joni Mitchell's "Hejira." I conflate them in a way not only because the opening two chord groove of "Tangled Up in Blue" and "Coyote" are really similar, but because both albums are a couple years past the hit-making eras for both of them, but they're really solidly crafted in a purposeful way, more concise and intimate than the records that preceded or followed. For Dylan, "Blood…" followed "Planet Waves" and preceded "Desire." For Mitchell, "Hejira" followed "The Hissing of Summer Lawns" and preceded the double LP, "Don Juan's Reckless Daughter." I like all of those records, but they don't feel as focused or well executed.

You can't really call "Shadows and Light" a tightly focused record. It's live, for one. It starts with a bit of "Shadows and Light" from "…Summer Lawns" interspersed with film clip audio from "Rebel Without a Cause," and other elements, then a blunt cut in the middle of applause to "In France They Kiss on Main Street," also from "Summer Lawns." But that's where the magic begins!

This is not your regular pop/folk Laurel Canyon band. It's Pat Metheny on lead guitar, Lyle Mays on keys, Don Alias on drums, Michael Brecker on sax, and the great Jaco Pastorius on bass. Along with Joni's brilliant alternate guitar tunings and the choice to use electric guitar more that acoustic, Jaco was the sound of the three studio albums preceding this concert. And this culminated with "Mingus," an album written with the legendary bassist and composer, Charles Mingus, the album this tour supported.

I love Mingus! I love the Pat Metheny Group! Jaco's "Word of Mouth" album is one of my all time favorite records! And I freakin' love Joni! This album had them all!

But it was the first time that I'd heard them combined.

I have Sheldon Gomberg to thank for this. I was looking to put a new band together at one point and drove from Culver City out to Sheldon's place in Silverlake to meet him. The way I remember it, he was outside on his landing practicing upright bass along with this album. I recognized the guitar on "In France…." It starts almost identically to "Coyote" but then the bass came in swinging, unlike the more atmospheric parts on "Coyote." That surprise delighted me, then all of a sudden Pat Metheny shows up. It was, "You like this? I'm going to double your pleasure. Now I'm going to double it again."

Sheldon had an import CD and it wasn't available domestically at the time, so that made it even more of a rare treat. And there was film of this show out there somewhere, but again, not available readily. Years went by before I was to actually own the album and see the film.

But it didn't take years for the inspiration to kick in. I soon drafted Todd Sickafoose and Mark Ferber from the UCLA jazz studies program into my band, along with Gustavo Aguilar from CalArts to join my stalwart keyboard player for all my bands to that point, Jebin Bruni "Singer-songwriter" music didn't have to be folk or rock based. It could be anything you wanted to explore with the best creative musicians you could find.

What I love about Joni's lead on this, it that she really led. Like Miles Davis, she allowed her musicians to be themselves in their roles, but she was clearly the visionary. And when it came time for her to take a solo turn to close the show on "Woodstock," she owns it (and it's a totally different interpretation than the version on "Ladies of the Canyon," or "Miles of Aisles").

I think singers in bands often have a musical inferiority complex. We think we're the least talented "musician" in the band, even if we're the chief songwriter. That could just be my impression from starting out as a kid guitar player and thinking my band's singer was the worst "musician" in the band. 😂 But when I decided I wanted to focus on songwriting instead of playing lead guitar, I started to feel like I was always the weakest technical link. Joni seems to have had none of that and owned her strength among other masters.

The original task of this list was to select albums that influenced your taste in music. What this album taught me was that all of my tastes could be combined, that songs could dramatically be re-approached, working with those outside your "genre" was nothing to worry about, and that the singer can own his/her/their validity.

And, damn, this album makes me so happy every time I hear it. It's the sound of artistic freedom.